Latin American Applied Research is dedicated to the rapid dissemination of high quality research communications in the scientific branches of Chemical Engineering, Applied Chemistry, Heat & Mass Transfer, Applied Mechanics and Control & Information Processing.
The Journal is currently indexed in the following ISI products and services: Research Alert, Science Citation Index Expanded, Current Contents/Engineering Index, Computing & Technology Index, Engineering Citation Index. It is also indexed by: Chemical Engineering & Biotechnology Abstracts (CEABA-VtB), Chemical Abstracts, LATINDEX, Periodica, UNCOVER.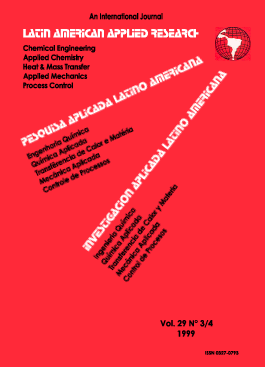 Published quarterly (January, April, July and October) with the financial support of Consejo Nacional de Investigaciones Científicas y Técnicas (CONICET) and Universidad Nacional del Sur (UNS). Printed at UNS Printing Office, Avda. Colón 80, Bahía Blanca, Argentina. Founding Editor: Jorge J. Ronco.
Statistics, reviewers, regularity and affiliation of the contributors (in pdf)
ISSN: 0327-0793 (paper version)
ISSN: 1851-8796 (digital version)
---
Designed by Gustavo Goñi (Depto. de Ingeniería Eléctrica y de Computadoras, UNS).
The photographs in the banner belong to laboratories at PLAPIQUI, Argentina.
Comments and suggestions

Last Update 06/25/18